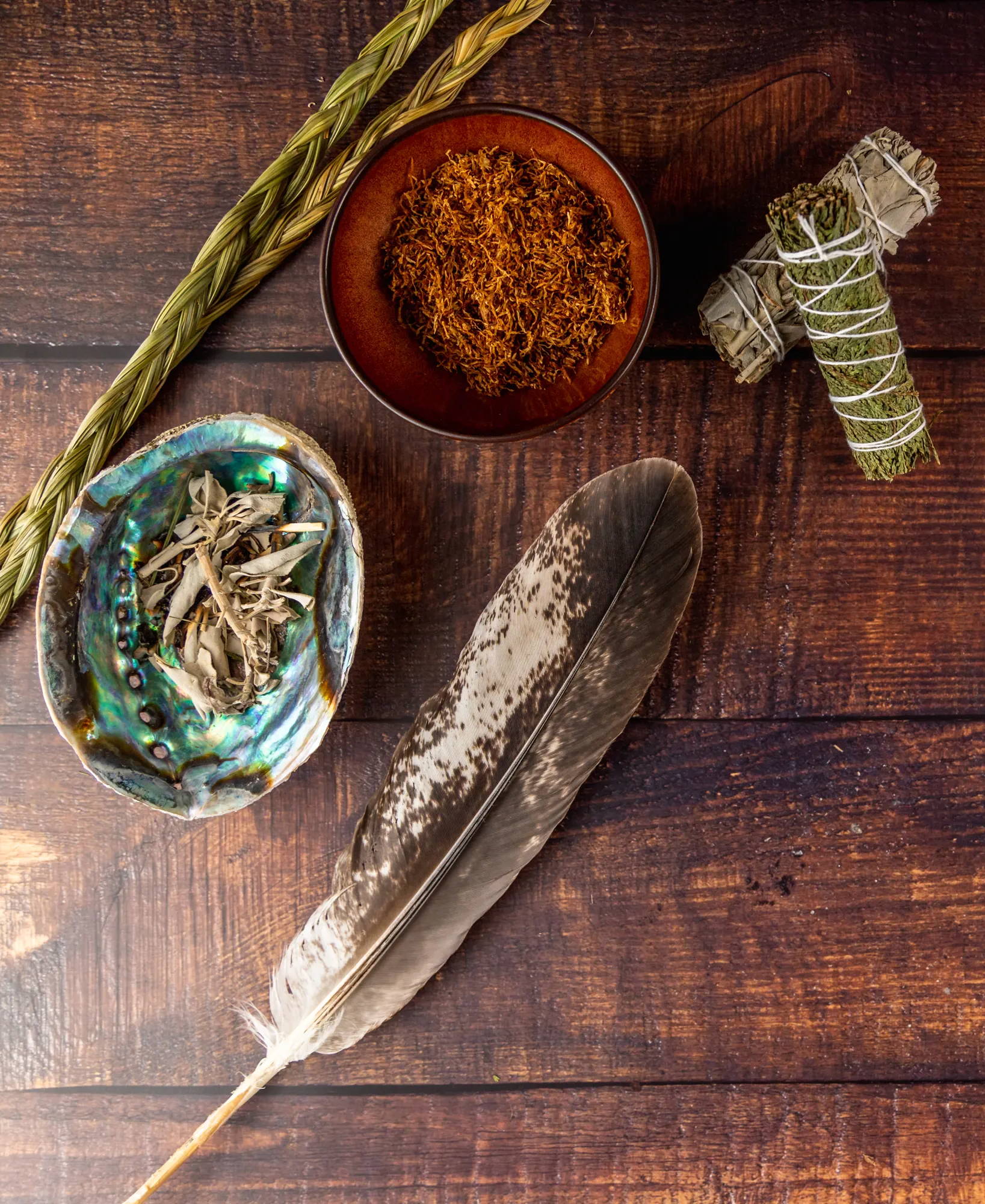 Do you want to help your family experience the amazing benefits of smudging, but you're not sure how to get them involved?
Whether you're very experienced in how to smudge with sage, or you're new to it, this video is all about smudging for beginners, and how exactly to start a smudge circle with your family.
It can be simple to learn to smudge for yourself, but when you're trying to teach others, and include others in your smudge circle, or group smudge ceremony - there can be a little bit more to navigate to ensure your loved ones are having a positive smudging experience.
We have a lot of our "TRIBE" ask us about how to introduce their children to smudging with sage practice and smudging for beginners. We put together this video with 6 simple steps to follow in order to successfully start a smudge circle with your family, so they can learn the basics of how to smudge right from the beginning, until fully maximizing all the benefits, and positive energy that smudging with sage can result in.
Learning about the practice of smudging with sage and reaping its benefits can be an exciting process. And it's human nature, when something is exciting, to want to share it with those around you.
But since smudging is a sacred and sometimes intimate form of blessing, it can be difficult or nearly impossible to ask your loved one to just dive in headfirst. This video is here to help you navigate the process of introducing two big parts of your life - smudging and your family.
Let's get started with these simple steps to start a smudge circle with your family.
#1 To get your loved ones involved with smudging with sage, you must LEARN about smudging yourself first
If you're not familiar with the art of smudging, then it's going to be pretty difficult to share the knowledge with your family.
In order to feel secure in sharing the practice, make sure you know enough about it yourself before introducing others.
We have a video on how to smudge, and that link will be down in the description. There are a couple options when it comes to watching the video.
You can always take a look at it on your own and go through a couple smudging rituals yourself first before involving your family, or you can check out the introductory video together so you can learn on the same wavelength.
Learning together might just be fun - definitely a bonding experience!
After you're familiar with the practice of smudging, you can move onto the next step.

#2 Identify clear intentions for 'wanting' to start a smudge circle with your family
Before you jump into the practice with those closest to you, take a look inwards. We recommend taking a look inside yourself before any smudging session, so this is probably something you're familiar with.
Before starting a smudge circle with your family, identify clear intentions as to why you want to share the practice with them.
This is done not only to make your smudge as effective as possible, but to get you and your family on the same page when it comes to smudging.
A few good examples on reasons behind starting to smudge with your family:
To tighten your bond

To navigate through a difficult time of grief

To welcome a new member

To overcome disagreements
Of course, you aren't restriced to these reasons - every family is different, which means you'll set different intentions for smudging together.
#3 Figure out who will be in your Smudge Circle
The third step is determining who in your family will be joining your smudge circle. The best way to find this out is to be open and ask the members of your family who's interested in joining - try to avoid *telling* anyone that they have to join.
If you allow it to be a choice, the smudging will be more effective. You can't force harmony.
Once you have a good idea of who's interested in smudging with you, then you can start planning out the practice itself, informing everyone who's included on what the specific smudging day and session will look like.
#4 Brief your family members, prepare them on what smudging is and the immense benefits they can get from participating
Some of your family members might be interested in smudging, yet aren't exactly sure what it is or what it can do. This is the perfect opportunity for you to give them an overview on the power of smudging, and the effect that it can have on your space and family as a whole.
I guarantee that your family will be more open to the experience once they learn about the good that smudging can do.
It's always comforting to be informed about a new experience before jumping right in. To put your family members at ease, make sure to answer any questions they might have, and take the process at their pace.
Once they get used to smudging and see the benefits for themselves, the preparation won't be so detailed. But a slow beginning is sometimes necessary for family members who tend to be more cautious and wary.
The part that you've been waiting for! It's finally time to perform the smudge circle itself. When you're going through the ritual, make sure to take it slow so your family and those who might be new to the practice understand what's going on during each step.
If you need to go back to step one and familiarize yourself with the process, don't be afraid to do so.. Learning and preparation is the best way to feel confident when you actually start physical practise or smudging.
This will create a sense of appreciation and understanding, and will encourage them to want to continue the practice in the future.
By moving through the ritual in a thoughtful, careful manner, you're expressing energy that nurtures your family and creates a positive space. This can only help with the strength of your bond.
#6 Follow up with your circle afterwards to get an understanding of how their experience was
Once the smudge session is over, check in with your loved ones and understand how the circle was from their perspectives.
Ask questions yourself and give them space to ask YOU questions in return.
Ask them what they liked about the smudge circle and how it made them feel.
If there was anything they wish they could've changed about the session, make sure to take note of that as well. There's always room for improvement with future sessions.
---